Dear donors of the Ringo Chan Arts Foundation Scholarship,

Happy Chinese New Year!

Thanks for your donation to make this scholarship sustainable and meaningful. I think all of you may have some preliminary understanding for the setting up of the BHJS Ringo Chan Art foundation scholarship from previous source. I would like to report the current situation of the scholarship which was started from 2020.

All applicants needed recommendation from teachers, submitted a brief self introduction, their certification of achievement and their art production. Initially, group interview was proposed for facilitation of interaction among students, teachers and scholarship founders. However, due to the COVID-19 pandemics in 2020 and 2021, the group interviews were conducted via zoom which also produced a fruitful communication and interaction among those who participated in the zoom meeting.

In 2020, there were four F4 students applied for the scholarship. One was from music stream and three were from visual art stream. All of them were granted for 3,000 each with total expenditure which was covered by one donation 12,000.

In 2021, there were ten applicants, four F.5 students and six F.4 students, three F. 5 students had received the award in 2020, four out of the ten students had received financial assistance from school in different categories. Two of them were from music stream and eight of them were from visual art stream. Three re-applicants were awarded 2,000 each and the remained seven new applicants were awarded 3,000 each with total expenditure 27,000. There were nine donors with total donation of 150,500. Part of the surplus will support school to build up facilities for encouraging and the remained surplus will be carried forward to year 2022 scholarship.

I would like to share with you the summary which was presented in the 2021 BHJS Thanksgiving Day for the celebration BHJS 60 th anniversary which included some of the art products of the students and two photos taken on the speech day 2020 and 2021. I had also shared about my view of the meaning of the lifetime achievement award of Ringo Chan by the Hong Kong Dance Alliance.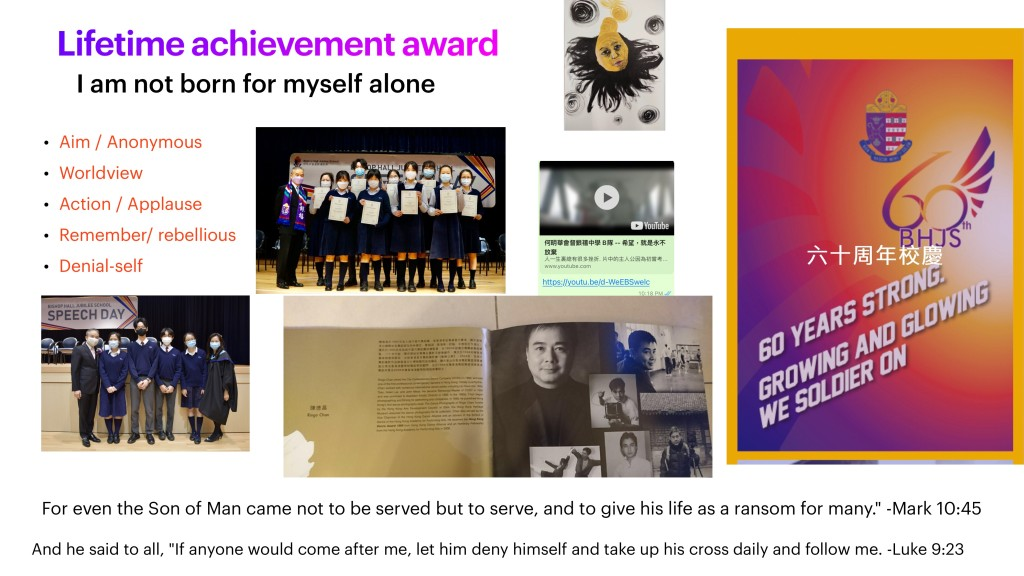 I had written personally encouragement letter to all applicants after their awards and all of them had sent back thank you cards to us.

I would like to share about the interaction of one student from music stream.

Self introduction-「在去年疫情停課時,本人有更多時間與音樂接觸,因而對音樂產生了濃厚 興趣。雖然本人沒有在高中選修音樂科,但仍希望能更有系統地學習音 樂。例如使用今項獎學金去學習樂理方面,以協助理解樂曲的細節,幫助 本人釋演音樂;或作為資助去購買新樂器,令本人能在音色上得到磨練和 改進;又或者報讀音樂相關的進修課程,了解音樂的發展歷史,以學習DSE音樂科會學到的知識,增加音樂認識,相信能協助本人更長遠地向音樂方向發展。至於未來發展方向,本人亦有意於大學修讀與音樂相關科目,不論是表演、教育、研究等方面都有興趣,希望能自我增值,滿足本人於音樂方面的學習意欲。」

My response- 「有人話「贏在起跑線」,我就覺得「有心唔怕遲」。這獎學金的原意就是資助一些對藝術有興趣的學生,但不一定在藝術方面主流發展。我覺得藝術例如音樂可以帶給人一種另類的訓練和享受。盼望這獎學金能令你發掘音樂方面能夠提升個人的品格。我也是在工作後才開始學音樂的,非常享受這個經驗,祝妳能夠享受在音樂中所學的一切。
妳的師兄薛頴雄(1977 F5畢業 edwardwhsitt@gmail.com)」

Thank you card as follows:-

Let each man give according as he has determined in his heart; not grudgingly, or under compulsion; for God loves a cheerful giver. -2 Corinthians 9:7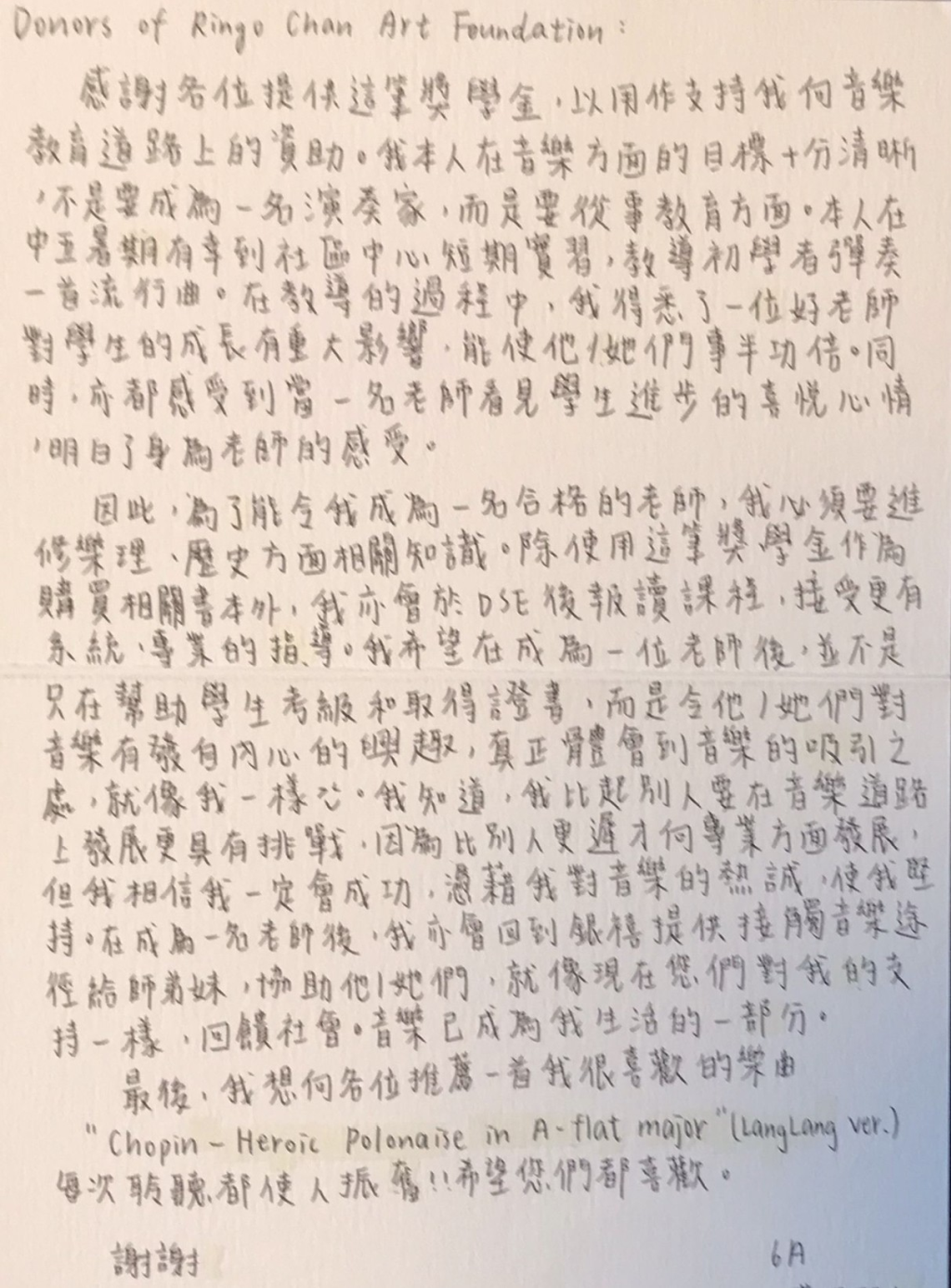 All are welcomed to contact me directly for further enquiry. Thanks again for all your heartfelt donation.

薛頴雄 (1977 F5 BHJS graduate)
Sitt Wing Hung Edward
edwardwhsitt@gmail.com
Whatsapps:- 90819177